3DCS Variation Analyst -
The Industry Leading Integrated Tolerance Analysis Software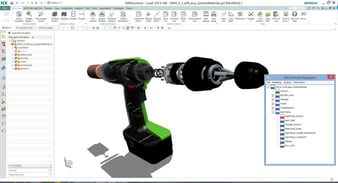 3DCS Variation Analyst is used by leading manufacturers in the aerospace, automotive, medical device, electronics and machinery industries.
As the most advanced tolerance analysis tool in the market, 3DCS Variation Analyst offers users the ability to do more than just 3D stack-ups by analyzing the relationship between your parts, and accounting for a multitude of sources of variation. This gives you the most accurate results to make important decisions about your design and manufacturing processes.

Incorporating Both Part and Process Variation
3DCS Variation Analyst simulates both part and process variation. This enables engineers to analyze their manufacturing process and how it affects both the assembly and final product functionality.
Used Daily by Major Manufacturers Across Multiple Industries
DCS has been supporting quality management in industries including automotive, aerospace, medical device, electronics and industrial machinery for over 20 years. DCS solutions are used daily by companies like Airbus, Embraer, BMW, General Motors, FCA, LG, Nissan, Phillips Medical, Samsung and Volkswagon.
Why Do Tolerance Analysis?
Validate GD&T -
Test, optimize and improve your GD&T (Geometric Dimensioning and Tolerancing).
Determine Gap and Flush -
Determine optimum Gap and Flush conditions based on your manufacturing processes.
Optimize Processes -
Simulate your manufacturing and assembly processes to determine optimum methods and order.
Reduce Variation -
Reduce overall variation about compensating for it in design.
Control Rework and Scrap -
Through robust design and GD&T, reduce the need for scrap and rework.
Resolve Manufacturing Issues -
Use measurement data from the plant to resolve production issues with the CAD model.
Get A Free Quote ›Contact Us ›
---
The 3DCS technology brought our commitment to product quality and safety by design to an even higher level. The tool not only can quantify our technical decisions but truly helps our IPD teams to numerically and visually discuss spatial dimensional variations and its management early in the design phase.


Daniel C. da Silva, Embraer Tolerance Analysis Team Leader, Embraer