Delivering Leading Quality Technology Since 1994
Beginning in 1994, DCS has been developing dimensional engineering and quality tools for manufacturers. With its start as an Engineering Service Provider, DCS has helped companies execute dimensional engineering to improve quality and reduce costs.
Dimensional Engineering Process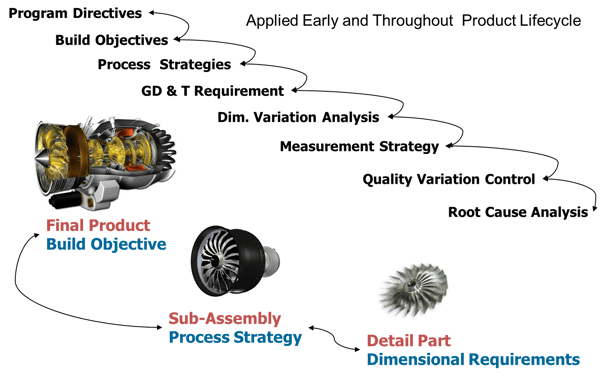 As DCS continued to provide consulting for dimensional engineering, there was a need for better software tools to support the process. DCS began by developing 1DCS, a one-dimensional stack-up tool that led to the development of 3DCS Variation Analyst Wireframe, and finally the CAD solids of today.
DCS Customers - Helping Manufacturers Reduce Costs
With a team of over 100 engineers, developers, administrators and sales professionals, DCS has grown from its roots as an engineering service provider to a full PLM solution from simulation tools to manufacturing quality software, with a full suite of services to support customer needs.
Beginning with General Motors in its early days, DCS has continued to expand into new industries, including aerospace in 2004 and then Electronics, Medical Device, Industrial Machinery and Consumer Goods.
Learn more about DCS's Customers
Partner Expansion - Global Network
By incorporating an international network of partner companies, DCS has expanded to cover every major region of the world. This helps companies by offering local partners that can support quality projects and needs in the local language, and at the customer's site.
Learn more about the DCS Partner Network
Industry Partners - Integrating Into CAD
Continuing DCS's pursuit of the latest technology, DCS has created partnerships with leading CAD providers to create integrated tolerance analysis and SPC solutions to make simulation, planning and validation easier to learn, apply and benefit from. Beginning with Dassault Systemes as the first Gold Software Partner in 2002, DCS has since increased their portfolio of partners to include SOLIDWORKS, SIEMENS PLM and PTC.