Delivering Leading Quality Technology Since 1994
Beginning in 1994, DCS has been developing dimensional engineering and quality tools for manufacturers. With its start as an Engineering Service Provider, DCS has helped companies execute dimensional engineering to improve quality and reduce costs.
The DCS Timeline
1994 - Company established by Robert Kaphengst and John Mathieson to support the need for a disciplined approach to GD&T deployment. This approach would come to be known as Dimensional Engineering Process. The first DCS customers were automotive OEM's and suppliers needing to apply this discipline to their engineering organizations.
1995 – The first available DCS software product -- 1DCS for creating 1D stacks and analyses
1998 – Release of version 1.0 of 3DCS 3-D CAD based Variation Analysis Software. Initially used to support its contracted dimensional engineering services work, 3DCS soon became commercialized and available to the general industry marketplace.
1999 – Release of version 1.0 of QDM Inspection Reporting software.
2001 – DCS enters into PLM provider Dassault Systemes CAA partner program. This leads to the development and commercial availability of 3DCS CAA V5 CATIA integrated variation analysis.
2002 – DCS wins its first aerospace client as Boeing selects 3DCS for application on its newly designed 787 aircraft program.
2003 – DCS is awarded NIST Advanced Technology Program funding to support Stream-of-Variation Analysis (SOVA). SOVA is a modeling, analysis, synthesis, and process control system for variation management of multistage manufacturing processes.
2004 – DCS wins another major aircraft client with Airbus choosing 3DCS to support the A380 jumbo jet and A400 military transport.
2006 – DCS establishes EDAG as a customer and dimensional engineering consultancy partner in Europe. EDAG would go on to expand into Asia, N. America, and become one of the largest 3DCS users in the world.
2007 – DCS unveils the first generation of its new enterprise scale Quality Management system branded as GDM-Web, leveraging the latest in web technology and database architecture.
2009 – The first customers to implement GDM-Web technology are Chrysler Corporation and tier 1 supplier Tower Automotive.
2010 – DCS continues blazing across the automotive market powered by the 3DCS integration to CATIA V5, as CATIA V5 is adopted across several auto OEM's including VW Group, BMW, Hyundai-Kia, and becomes the de-facto standard across the structural airframe industry.
2011 - DCS extends its partnership with Dassault Systemes with the extension of the entire software solution portfolio to the next generation V6 3DEXPERIENCE PLM Platform.
2012 – DCS wins its first major non-US Auto OEM for GDM-Web, with a major win and deployment at Jaguar Land Rover in the UK. This deployment aligned to the 3DEXPERIENCE PLM platform strategy across JLR, and would eventually include their JV operation in China, Chery-JLR.
2013 – DCS re-brands GDM as QDM - Quality Data Management - to align to market changes and stress the QUALITY aspect of what the solution set is intended to enable and support during manufacturing.
2013 – DCS hosts its second user conference in downtown Detroit at the Athenium Hotel.
2015 – DCS reaches a development partnership agreement with PLM provider Siemens PLM, and begins development on 3DCS NX Integrated, which became available for commercial release in June 2016.
2016 – DCS expands its distribution agreement with CENIT AG, expanding the partnership from Germany and Switzerland to include market coverage in the majority of Central and Eastern Europe.
2016 – DCS reaches a development partnership agreement with PLM provider PTC, and begins development on 3DCS Creo integrated, which was released alongside the 3DCS 7.4 release in March 2017.
2017 - DCS hosts its third user conference at the Hilton in the GM Renaissance Center in the heart of Detroit, Michigan.
2018 - DCS continues the global expansion of QDM deployment with Chinese EV manufacturer NIO deploying QDM-WEB following their successful utilization of 3DCS and leveraging the DCS Quality Intelligence closed-loop framework.
Dimensional Engineering Process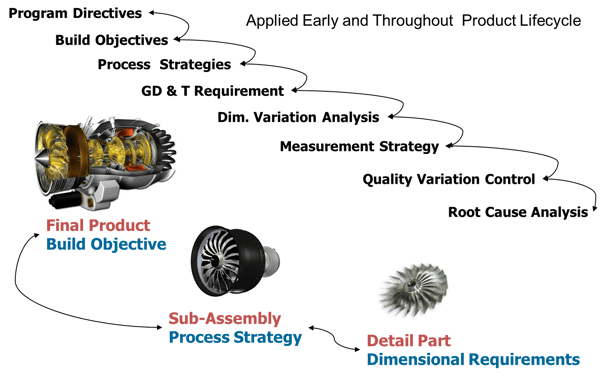 As DCS continued to provide consulting for dimensional engineering, there was a need for better software tools to support the process. DCS began by developing 1DCS, a one-dimensional stack-up tool that led to the development of 3DCS Variation Analyst Wireframe, and finally the CAD solids of today.
About DCS - DCS Mission and Solutions
Dimensional Control Systems Inc. (DCS) based in Troy, Michigan, USA is focused on the methodology of Dimensional Engineering. DCS offers best-in-class software solutions and services to manufacturing companies the world over. With over 50 years of Dimensional Engineering background, DCS continuously strives to exceed our customer's expectations for world-class Variation Analysis and Quality Management System (QMS) software and services.
Learn about DCS' Mission and the solutions that it offers to manufacturers -- Tolerance Analysis, SPC Software Systems and Staffing
Learn more about DCS and DCS Solutions
DCS Customers - Helping Manufacturers Reduce Costs
With a team of over 100 engineers, developers, administrators and sales professionals, DCS has grown from its roots as an engineering service provider to a full PLM solution from simulation tools to manufacturing quality software, with a full suite of services to support customer needs.
Beginning with General Motors in its early days, DCS has continued to expand into new industries, including aerospace in 2004 and then Electronics, Medical Device, Industrial Machinery and Consumer Goods.
Learn more about DCS's Customers
Partner Expansion - Global Network
By incorporating an international network of partner companies, DCS has expanded to cover every major region of the world. This helps companies by offering local partners that can support quality projects and needs in the local language, and at the customer's site.
Learn more about the DCS Partner Network
Industry Partners - Integrating Into CAD
Continuing DCS's pursuit of the latest technology, DCS has created partnerships with leading CAD providers to create integrated tolerance analysis and SPC solutions to make simulation, planning and validation easier to learn, apply and benefit from. Beginning with Dassault Systemes as the first Gold Software Partner in 2002, DCS has since increased their portfolio of partners to include SOLIDWORKS, SIEMENS PLM and PTC.