Valeo - Ensuring Conformance of Automotive Interior & Intuitive Controls with 3DCS
Sadiq Ali Basha G is a Deputy Manager for Comfort and Driving Assistance systems at Valeo India Private Limited, R&D center for the multinational automotive supplier Valeo, headquartered in Paris, France. Sadiq is also a Valeo certified Regional trainer for GD&T and Valeo Expert in the field of Mechanics. Sadiq has extensively used variation analysis software to conduct up-front assembly build analyses to predict assembly variations and eliminate build issues.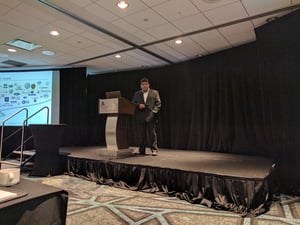 As such, he utilizes advanced techniques with tolerance analysis to control the performance of systems which would normally be considered unaffected by variation, or include many small components. In this case, the heads up display on the windshield of an automobile in addition to the steering column systems.
The Top Column Module (TCM) is the section of the steering column containing the control arms and mechanisms directly behind the steering wheel. Because of the amount of controls condensed into this device, there are a diverse number of directional switches, levers, ring rotators, rocker switchs and other interfaces to control the wipers, lights, cruise control and turn signals that have to function properly.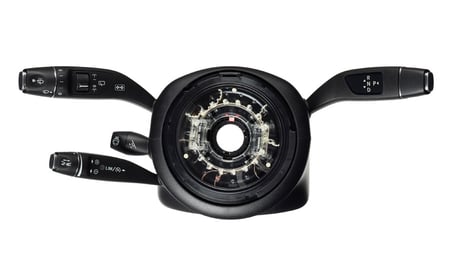 The amount of space to place all of these devices in conjunction with the complexity makes variation a considerable influencer in final builds. Sadiq showcased how Valeo's established process simulated a variety of configurations to identify any that would not meet safety standards and optimize the contact surfaces to meet quality specifications. In doing so,
The Heads Up Display uses an imager projecting onto a reflector which puts the images onto the windshield of your vehicle. Because slight changes to the angle of either the projector or a reflector changes the location or distorts the image, the optical team wanted to make sure that the image would be within the best fit zone and at the optimal resolution without any pixel loss.
To do this, they incorporated the results from a tolerance analysis study and used these to;
"...guarantee the beam projection by preventing pixel loss due to vignetting* of optical cone caused by variations."
*Shading off
This is an excellent example of how variation from parts can influence other aspects of the product not normally considered to be a part of tolerance analysis.